How to Build True Confidence
and Become a Social Powerhouse How do I stop having boring conversations?…
How do I get over the fear of approaching women?…
How do I stop giving a fuck what people think about me?
These are actual questions I've received from How to Beast readers…
In fact, I get asked more questions about building social confidence than anything else.
Now let me ask you a question (or two)…
What if you could talk to anyone with complete confidence?
What if you could approach any girl without hesitating?
What if you truly believed in yourself, and didn't care so much about the opinions of others?…
That would make your life a lot easier right? (trust me the answer is YES…)
Take 5 minutes to read the rest of this page and I'll show you EXACTLY how you can build true confidence, overcome your fears, dominate social interactions, and start living up to your full potential…
…BUT First: Does Any of THIS Sound Like YOU?
#1: My Conversations Always End Up in Boring Small-Talk
When you struggle to maintain interesting conversations, every social interaction is stressful.
You rely on boring topics like the weather or your weekend plans
You struggle to hold good conversation for longer than a few minutes
You constantly get stuck in awkward silences
Conversation is such a big part of life. And this makes all of these situations feel very painful. It makes you want to avoid talking to new people at all costs. And it can even make you feel completely powerless.
#2: I'm Too Afraid to Approach Cute Girls in Public
You know that feeling you get when you spot a girl that's "just your type"?…
Maybe she's standing by herself at the bar
Maybe she's waiting in line at the grocery store
Maybe she's sitting next to you at the coffee shop
Either way, your mind starts to race. You want to approach her, but all you can do is think of excuses. And it seems like everyone is watching you. So you get paralyzed, give up, and then beat yourself up for the rest of the day.
#3: I Don't Feel "Heard" or Respected at Work
If you feel "under-valued" or "unheard" at your office, every day is painful.
It's like your bosses and co-workers don't take you seriously
It's like people don't really listen to what you're saying
It's like you're an outsider at your own workplace
All of this sucks! You just want to be liked and respected, but it seems like you're at the very bottom of the social hierarchy. And it prevents you from expanding your network, getting promotions, and advancing your career.
#4: I Tend to Doubt My Abilities and Beat Myself Up
One of the most painful things to live with on a day-to-day basis is negative "self talk"…
You assume people are judging you and looking down on you
You focus on all the negative aspects of your life
You look for approval from everyone you talk to
These things can make you feel like you're living life inside of a "mental prison". Rather than focusing on what you're actually doing, you spend all of your time worrying about what other people are thinking.
#5: I'm Afraid to Meet New People and Try New Things
Do you ever feel like you're completely trapped by the walls of your comfort zone?
Meeting new people at social gatherings can seem stressful
Enrolling in a new class or hobby can seem intimidating
Quitting your job and pursuing a new career can seem impossible
Your nervousness and anxieties can paralyze you. They can stop you from taking any new risks. And this is scary, because it can prevent your from advancing your career, improving your sex life, and becoming a better man.
If any of these things sounds like you, then listen up!
You're not alone.
In fact, every single guy who wants to build more confidence faces these exact same challenges.
The Solution? A Proven System to Build Inner Confidence, Demolish Your Fears, and Dominate Your Social Life
True confidence comes from within.
This is the #1 reason that most guys fail to ever improve their confidence levels and social abilities.
If you rely on alcohol, pick-up lines, or any other "quick fixes" to make you feel confident, then you're really just wearing a mask to hide your true colors…
…and this NEVER lasts!
What you really need is a simple system to do 3 key things:
Step #1: Build inner confidence
Step #2: Revamp your conversation skills
Step #3: Overcome your fears and insecurities
You don't need a dating course to overload your brain with pick-up lines and canned routines. You don't need to build 20 pounds of muscle. You don't need to become a millionaire either.
You just need to build some GENUINE self-confidence that helps you conquer ALL areas of your life!
But Wait! Who Am I to Talk About Building Confidence?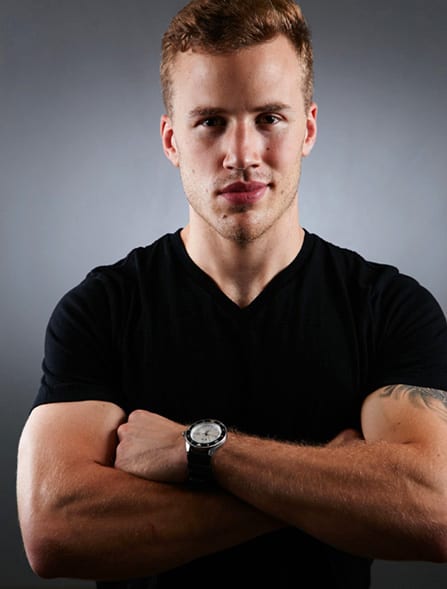 If you're skeptical, I totally get it. Self-confidence is an extremely personal thing.
But before you grab a pitchfork and burn me at the stake, let me introduce myself: my name is David de las Morenas. I'm a bestselling author and the founder of How to Beast…
And while I could brag about how my blog gets over 100,000 visits per month, or how I've been featured in top publications like AskMen.com and LifeHack.org – I don't want to waste your time.
The fact is that I've dedicated the last 7+ years of my life to building confidence and overcoming social fears.
I can remember back in high school, sitting in class and watching my hands literally shake because I was so anxious. Or when I was at a college party, and all I could do was sit there and stare into the red cup I was holding, because I was too afraid to talk to anyone.
I was an insecure virgin who was afraid of rejection. I was afraid that girls didn't like me, and guys didn't respect me.
It wasn't until I started digging into books on self-help, meditation, dating, and human psychology that things began to change…
How I Finally Started to Feel Confident in Myself and My Abilities After Years of Struggling with Low Self-Esteem
Over the next few years I experimented with countless methods…
Meditation and breathing techniques to calm my mind
Approaching hundreds of girls to overcome rejection
Self-help courses to discover my values, passions, and goals
Working out and taking supplements to build muscle
Trying habits and morning routines to boost self-esteem
Some worked. Some didn't. And honestly, some even made me feel more insecure.
But little-by-little I started to feel more confident in social settings…
I was finally able to attend parties without getting anxious. I was finally able to initiate conversations with cute girls. I was emerging as the leader of my social circle. Hell, I was even getting laid.
And now, many years since I began this journey, I finally identify as a confident man. A social powerhouse, if you will. I don't want to brag, but when I run into old friends, it's like they don't even recognize me… all because I've finally developed true, inner confidence.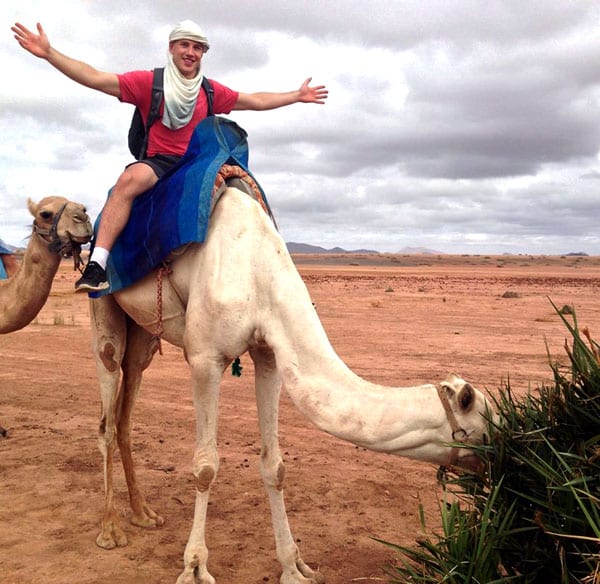 So I Decided to Create a Simple Step-by-Step System That Any Man Can Use to Transform into a Social Powerhouse
Since then I've written several bestselling books on building confidence. My books Confidence Hacks, Calm Cool Collected, and The Book of Alpha have all reached #1 on Amazon's bestseller rankings.
I've been able to distil the countless different steps I took over those 7+ years into effective, actionable advice that thousands of other men have already used to successfully overcome their fears and insecurities.
And now, I've decided to synthesize the most important parts of my books – the absolute most effective techniques I know – into a simple step-by-step online course that you can follow to quickly demolish your fears, build true confidence, and become a social powerhouse.
Here Are Just SOME of the Results You Can Expect…

Better Conversations
Have interesting conversations that make people want to see you again
Avoid awkward silences and never run out of things to say
Have proven tools to instantly turn on your charm when you feel shy
Speak to anyone about anything without hesitating (or needing alcohol)
Tell amazing stories that command attention (without getting nervous)

More Dates
Crush your fear of rejection and stop pussying out of approaching girls
Approach women with a carefree attitude that conveys confidence
Develop strong body language that subconsciously makes her want you
Have a simple framework for every approach (so you don't get nervous)
Use my texting blueprint to quickly set up dates and avoid stress

More Respect
Assert yourself firmly so people pay attention to what you say
Walk with confidence so people respect you before you even speak
Manipulate every conversation so you're always in the "power position"
Quickly climb to the top of any group or social circle
Connect deeply with people so they always give you their full attention

True Confidence
Build inner confidence that stays with you all day, every day
Stop caring so much what other people think about you
Overcome physical, sexual, and financial insecurities
Have proven tools to end negative "self talk" right when it starts
Stop "filtering" what you say (out of fear of embarrassment or conflict)
How About Some PROOF My System Works?
I got Social Beast because I wanted to have the confidence to be me, rather than some bland version of myself.
My main problem has always been: "How do I come up with conversations that can keep going?" All too often, I let my insecurities convince me that I'm not interesting enough.
I get afraid that I won't find the right topics to talk about. Or I get worried about what my next reply should be.
So far, Social Beast has been awesome. For example, the other night I was at party where I only knew the host. Normally this would make me nervous, but I was able to meet some new people and have some cool conversations.
At one point, I even told a story to a group of people, and I had everyone laughing! I was like: "Wait, how did that happen? This is really awesome."
Michael C.
The first module ALONE has really helped me!
I've never been social (partly due to lack of confidence from a stuttering problem)… But the last couple weeks I've found myself being the leader of group conversations (and when I stutter just breeze through without hesitation).
I'm comfortable for the first time in my life! Last night I had all the waitresses at the bar with me and a customer laughing and doing shots.
Thank you so much for helping me find my inner beast!!!
Dustin E.
I'll be honest, I got Social Beast because I wanted to improve my sex life.
I'm a good looking guy. I've always just been too scared to approach girls and talk to them without alcohol. It's a combination of fearing rejection and not knowing what to talk about.
Social Beast has been great for me. Between the conversation module and the approaching module, I've finally built some real confidence around women.
I always have something to say when the conversation dies out. But the best part has been that I no longer feel intimidated when I walk into a bar or nightclub. In fact, I kind of get excited, because meeting new people finally feels fun for me.
Ramon S.

Featuring 5 Kick Ass Step-by-Step Modules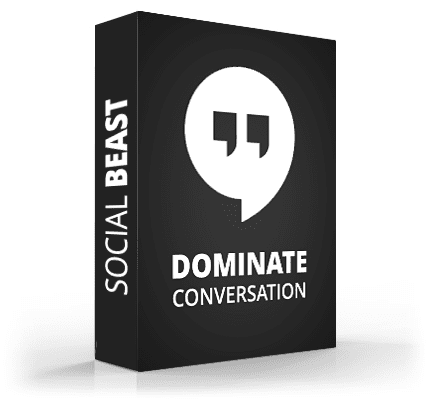 Module #1: Dominate Conversation
How to speak to anyone about anything (and make it interesting and fun)
A simple mindset shift to instantly make the other person like you
How to deal with groups of people vs. speaking to someone one-on-one
5 "plug and play" conversation topics to ensure you never run out of things to say
How to tell captivating stories that leave people wanting more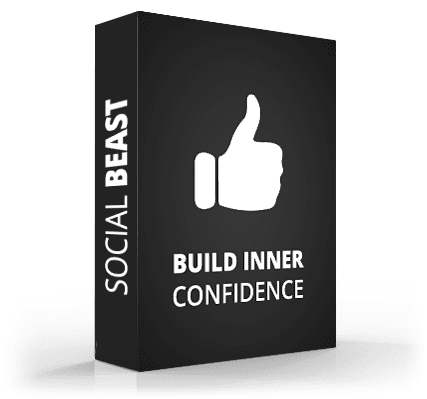 Module #2: Build Inner Confidence
How to develop a rock-solid belief in yourself and your abilities
A simple method to instantly end negative self talk
How to "self validate" and stop seeking approval from other people
Exercises you can do at home to build trust in yourself
How to "re-align" your life with your deepest values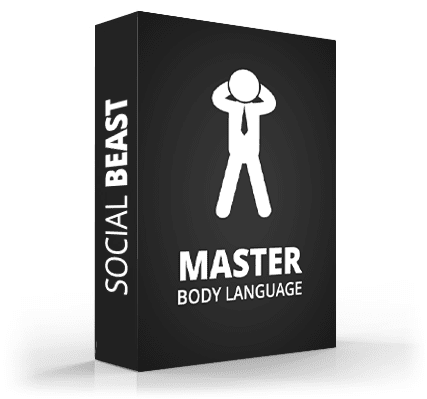 Module #3: Master Body Language
How to present a strong, confident image to everyone who sees you
A 2-step method to using eye contact that elicits attraction and respect
How to speak deeply and find your naturally masculine tone of voice
Exercises you can do at home to perfect your posture and appear taller
How to stand or sit (and where to put your hands) to always appear confident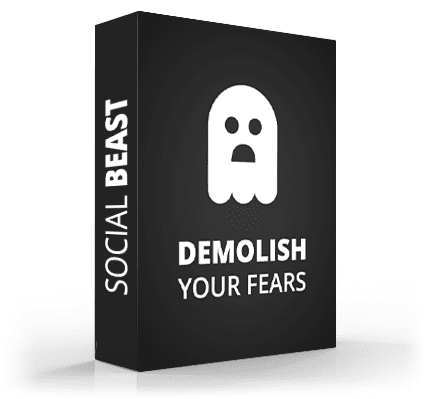 Module #4: Demolish Your Fears
How to overcome fears that hold you back
A quick exercise to get comfortable "exposing" your true self to other people
How to demolish physical, sexual, and financial insecurities
How to "fix" old friendships that "feed" your insecurities and keep you down
A simple method to free yourself from past traumatic events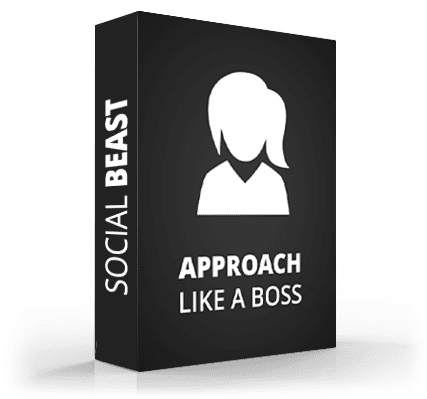 Module #5: Approach Like a Boss
How to overcome the fear of rejection and approach without hesitation
A simple question to approach any girl (in any environment)
How to ask her out and get her phone number (without making it a big deal)
Video demonstrations of me doing real life approach examples
How to text her and set-up the date in just 3 messages
Every Module is Streamlined So You Get Faster Results!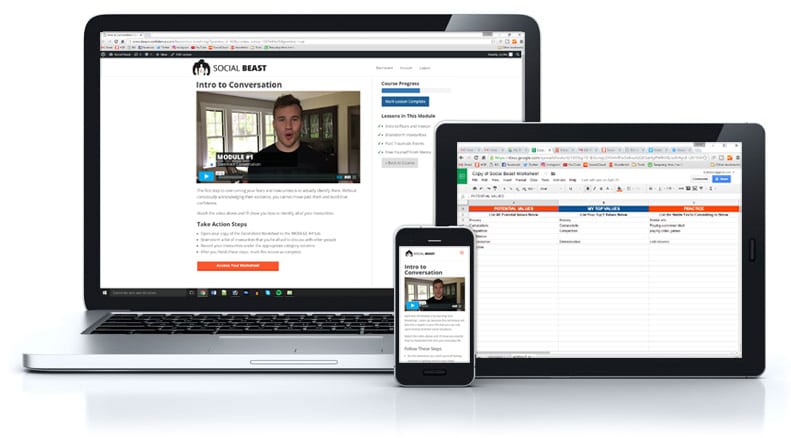 Video Based
The entire course is 100% video-based. This means you get to see me demonstrate everything on camera, so you know exactly what to do and how to do it.
Action Challenges
If you don't get out there and take action, you won't see results. This course contains strategic 'take action challenges' to make sure you see real progress.
Personal Worksheets
Some lessons require you to brainstorm and take notes. I've made this as easy as possible by including fully formatted Google Docs worksheets for your convenience.
Instructor Support
Every lesson contains a comments box that you can use to ask me any questions that you have. I will get back to you, quickly and personally.
Order Now and Get This Limited Time BONUS Module!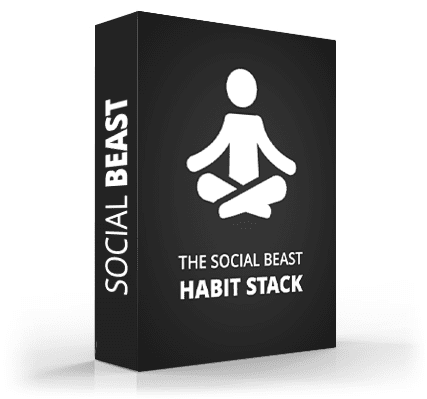 BONUS Module: The Social Beast "Habit Stack"
How to wake up with a positive and confident mindset every day
A 1 minute exercise to eliminate regret and self-pity
How to instantly boost your energy and your testosterone
A 30 second exercise to generate true inner confidence
How to end feelings of lacking and breed an abundance mentality
How Much Does it Cost and How Do I Get Started?
How much is Social Beast?
Well, you could always keep struggling on your own, and try out a bunch of random shit like I did.
You could read countless eBooks and blog posts, watch endless YouTube videos, listen to hundreds of podcasts, and even hire a "dating coach" or psychiatrist for THOUSANDS of dollars. And you could spend years of your life making incremental progress…
…or you could take a massive shortcut and enroll in Social Beast!
Now, to cover everything you get with Social Beast in my 1-on-1 confidence coaching program, it takes 3 months and a $3,000 investment…
Is my coaching worth that much? Absolutely! Almost all of my clients see quick results (get a girlfriend, receive a promotion, etc) and come back for more…
But I get it, that doesn't make it any more affordable if you don't have enough cash in your bank account. So here's the deal:
For Social Beast's step-by-step system you will be paying just $300.00
Limited Time Offer: Order Now and Get Social Beast for Just One Payment of $97
That's over 90% off what it costs to cover the same lessons in my private coaching program. And it comes with my full support to answer any questions you have (plus instant access to anything I add to the program in the future).

How about a guarantee?

Look – it's normal to have doubts – I felt it myself when I started.
That's why Social Beast comes with a remarkable 60-day 100% money-back guarantee.
This means you get to try the ENTIRE program, following my specific actions steps, and then decide if it's right for you. There's no risk involved.
I'm completely confident you'll be seeing results in less than 60 days. But if you put in the work, follow the course, and you're still not 100% satisfied – then I don't deserve your money.
So what's the next step?
Simply click the 'Add to Cart' button below and you will get immediate access to the course so you can get started today.
What More Badass Guys Had to Say
I got Social Beast because I wanted to become more confident and assertive. I always get stuck in my head and get nervous when I'm around cute girls or "alpha male" type guys.
I was a little skeptical of Social Beast, because I honestly didn't think I could change myself. I'm happy to say I was wrong. By following the exercises in the program, I have quickly gained confidence in all areas of my life.
In fact, I thought I'd let you know I had a job interview today. I smashed it! I got offered the position before the interview was even over.
It felt amazing! Just a few months ago, I wouldn't have thought I was worthy of the job, salary, or opportunities I have now. Thank you for that.
John M.
The main reason I joined Social Beast was to brush up on my communication skills and improve my confidence.
If I'm in a bookstore or cafe I'm comfortable chatting people up. But in a crowded environment like a bar or club I always get in my head.
It's hard for me to calm down and just vibe with the environment. I tend to ask mundane questions like "hey where are you from" and get stuck in boring conversations with girls.
I've bought dating courses in the past, but most of the techniques I learned in those felt forced and unnatural. However all of the techniques I'm learning in Social Beast feel very natural. All of the action steps are easy to follow and actually implement in my life.
While I haven't reached my ultimate goal yet, I can see that I'm actually improving and making use of my investment in Social Beast.
Keiran D.
Frequently Asked Questions
1. What exactly is Social Beast?
It's a proven system to build the type of confidence that people notice from across the room… and use this confidence to initiate and lead interesting conversations.
Here's how it works: I dealt with low self-esteem for most of my life. I didn't lose my virginity until late into college. And I never felt fully comfortable around anyone except my 3-4 closest friends.
Over the past 6 years, I've worked hard to overcome these insecurities and build a deep sense of confidence. Now I finally believe in myself, and don't need the approval of other people to be happy. I'm also pretty damn good and starting up a conversation with a cute girl, or random stranger, and quickly making a new friend… or girlfriend.
I've since written several bestselling books about how to build confidence, and even privately coached a bunch of guys to improve their confidence and their dating lives.
Along the way, I developed a system that any man can pick up and use to quickly build confidence and dominate socially…
…that system is SOCIAL BEAST!
2. Can confidence really be learned?
HELL YES!
I know from personal experience (and from watching HUNDREDS of my clients) that you can change from shy, insecure, and full of fear…
…to confident, assertive, and seen as a LEADER of men.
It's not like your eye color. The idea that you're either born with or without it is a MYTH created by bitter men who just want an excuse to avoid putting in work and bettering themselves.
It's no different from learning how to tie your shoes or ride a bike, confidence can be learned. And with Social Beast, the process is easier and faster than ever.
3. Will Social Beast "work" for me?
So obviously everyone's situation is different. And I can't guarantee that you'll be as smooth as James Bond by tomorrow morning…
But I can give you the EXACT blueprint for success with all of the tools, exercises, and step-by-step instruction that's worked for me (and many of my clients and friends).
That being said, Social Beast is right for you if:
If your conversations always end up in boring small talk, and you want to be able to talk to anyone about anything, this is going to be for you. OR…
If you're afraid of rejection, and you want to build the courage to approach women and take bold career risks, this is going to be for you. OR…
If you struggle to get respect from other men, and you want to become a leader in the office (and amongst friends), this is going to be for you. OR…
If you always worry about what other people are thinking about you, and you want to stop giving so many "fucks", this is going to be for you. OR…
If you're afraid to meet new people and try new things, and you want break out of your shell once and for all, this is going to be for you.
The key "requirement" I'd say is a real desire to not only learn BUT ACTUALLY IMPLEMENT the steps laid out inside the program.
The course is definitely NOT for you if:
If you are expecting "overnight results" then this, my man, is not for you.
This is not a "magic bullet". Yes, I give you the EXACT blueprint and tell you what to do, but only you can actually take action and get it done…
So if you have a negative, shitty attitude, please don't buy the course.
4. What about customer service?
I pride myself on having reliable customer service. I will personally respond to any issues you have and make sure you don't get caught up.
In fact, every single module has a question box at the bottom of the page where you can submit questions for me to answer about that module.
5. What's the time commitment?
Social Beast contains 5 modules, and each module can be completed in 4-5 days.
This means that in just 1 month from now you could have already transformed your inner confidence and your ability to have consistently amazing conversations… without any fear or anxiety.
More questions? Just click here to ask me
Just send me an email at david@howtobeast.com if you have any more questions about Social Beast.